2023 STUDS Ear Piercing Trends
The hottest ear piercing trends of 2023 according to our expert Studs piercers!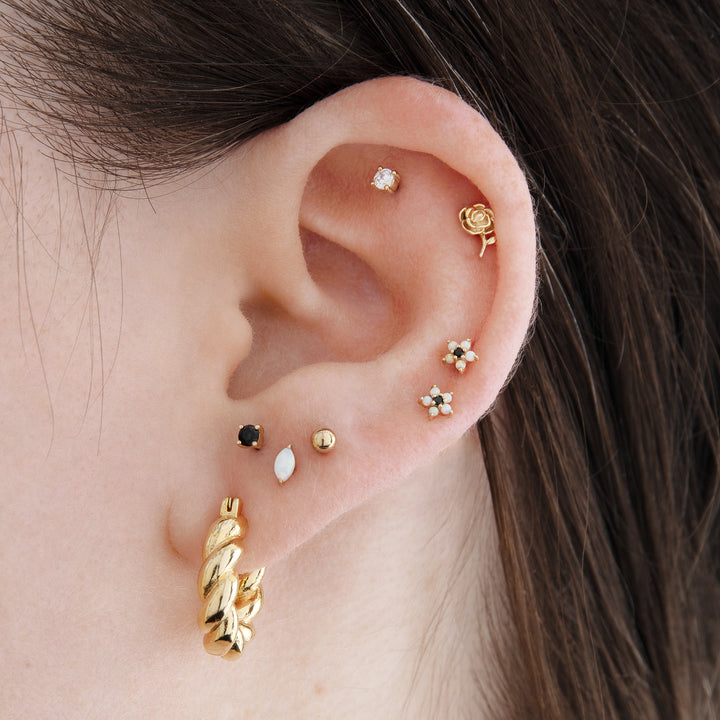 Hey Studs, Happy New Y(ear)! A new year means the perfect opportunity to update your everyday look with a new ear piercing (or two) for a Hole New You®. To get the earspiration flowing, we asked our team of expert Studs piercers to predict the hottest ear piercing trends of 2023! Check them out below:


Piercing: Contra Conch
What is it? Also known as the outer conch, this piercing placement is the ridge of cartilage that sits outside the inner conch!

Piercer: Amy, Studs Hudson Yards
Why: "It's my favorite piercing, because it's not that common like the flat [helix] and the conch. It's very centered and it's a piercing that most people have the anatomy for, it would just be placed slightly different each time [depending on their anatomy] and that's the beauty of it."
Piercing: Stacked Lobe
What is it? Two lobe piercings stacked either directly on top of each other or diagonally, creating an elevated look to your lobes.

Piercer: Amy, Studs Hudson Yards
Why: "I love a stacked lobe because there are so many different types of lobes and it looks so different on everyone. It's a good way to style your ear in a different way especially if you are not ready for cartilage piercings yet. Whenever I have clients come in for a 3rd hole and they hardly have space I suggest a stacked lobe to give more free range of jewelry and they are always happy with that suggestion."
Piercing: Studs Snakebite®
What is it? Two piercings placed close together in your conch (right) or your flat helix area (left) to pack a punch and draw attention to your 'scape.
Piercer: Nahjah, Studs Back Bay
Why: "Studs created the Studs Snakebite® midis and they've become a staple. In 2023, I think there's going to be a trend and interest in maximalism. I've seen a lot more content in the fashion world play with the idea of 'more'. The Studs Snakebite® doesn't even have to be over the top and I personally think it isn't! And with our piercing service allowing up to two piercings, this has helped reinforce the thought of doubling up on a piercing. People who typically would've gotten a single conch piercing will suddenly decide, 'why not get two?'. I also see double piercings like double nostrils (same side and mirroring sides), double brow, and trends like lip snakebites/angel-bites trending and resurfacing."
Piercer: Tara, Studs Domain NORTHSIDE
Why: "It's such a cute vibe and looks super cute when they're healed and switched out to huggies!"
Piercer: Ileana, Studs Century City
Why: "Trendy set, looks very clean and even cuter with small hoops when healed."

Piercing: Faux Rook
What is it? A piercing placed in the ridge right above the rook's shelf, mimicking the top of a real rook piercing.

Piercer: Mazzy, Studs King Street
Why: "The faux rook is a fun alternative to the commitment of a rook [typically pierced] with a curved barbell. Many of our customers don't feel that they fit the vibe
Piercing: Flat Helix
What is it? A piercing that is placed in the flat region of cartilage in the upper ear.

Piercer: Mazzy, Studs King Street
Why: "It's not a piercing you see around too much on the street, and with the unique looks you can create by adding different studs/chains [when fully healed], it's easy to keep it feeling fresh after it's been pierced for a while!"
Piercing: Conch
What is it? A piercing that sits in the inner part (the 'concha') of your ear.
Piercer: Jacqueline, Studs Rice Village
Why: "As the piercing becomes more popular, clients will start to see it is more protected (being inside the ear) and they only have to worry about the back as it heals [since it's less likely to get snagged]."
Piercing:
Tragus
What is it? A small piece of cartilage that pokes out right in front of your ear canal.
Piercer: Jo, Studs Rice Village
Why: "It's a nice easy addition to add balance to the ear. Especially for people who would like a dainty look. Because we also have such a large selection of piercing jewelry compared to traditional shops, it opens a whole range of cool jewelry in that spot that's personalized for the client versus a traditional CZ stud."

Ready for a Hole New You®? Head
here
to book your next piercing appointment at Studs and add these piercings to your own Earscape® next!
Why Studs?
👂Ear piercings with needles (never piercing guns)!
👂Piercer consultation with every appointment 
👂A wide assortment of cute & quality piercing jewelry