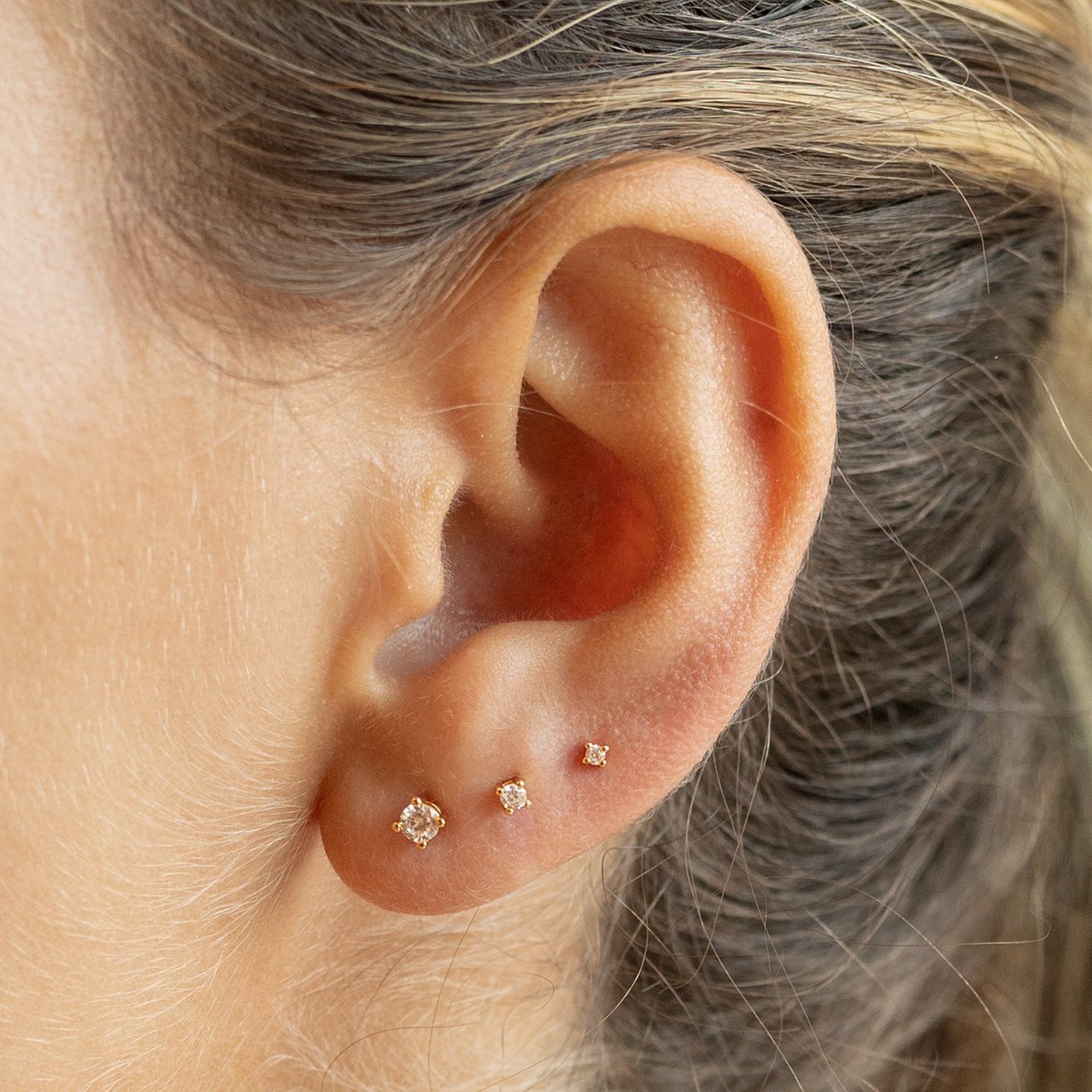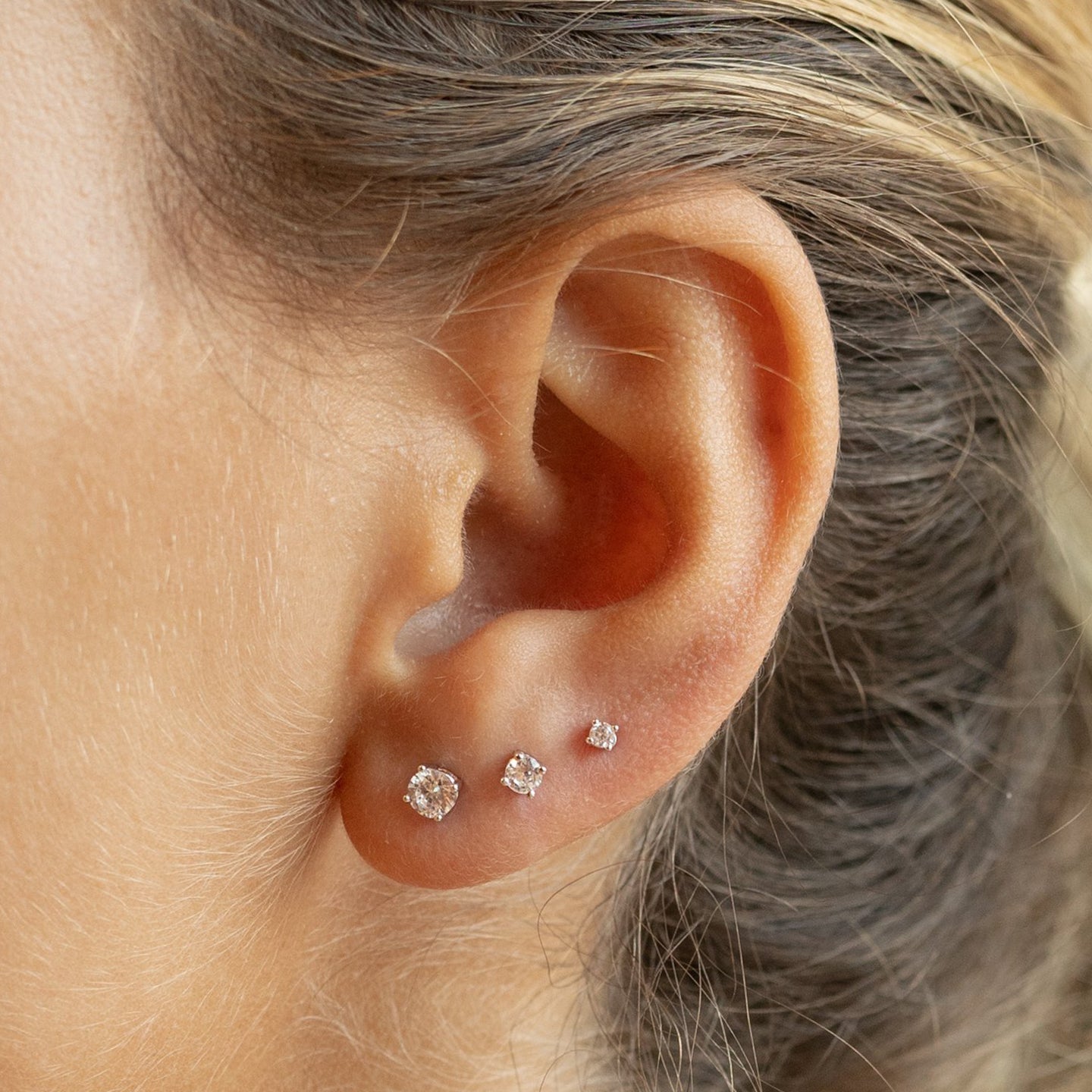 CZ Studs Set
Original price:

$108

Current price:

$62

$62

Durable for everyday wear

Safe for sensitive ears

Free shipping $75+

BUY 3 GET $10 OFF, BUY 4 GET $25 OFF, BUY 5+ GET $40 OFF
What's included

To keep your Studs from tarnishing we recommend avoiding water and removing your Studs before you shower, swim or sweat. To clean your earrings use a dry, soft, clean cloth. For a deep clean use water and a soap without harsh chemicals and dry immediately with a clean soft cloth. Always store your earrings in a cool, dry place.
Free with every order
Pouch and custom Studs stickers!

Best Earrings I've Ever Had

Since I was little my ears have been highly sensitive to any and all earrings I've ever worn. They would get irritated and smell and it just was not a cute look. These earrings are a great quality, don't irritate my ears, and leave no metallic smell. I'm so happy I bought them!

I do not recommend this product

Turned black pretty quickly.

I bought these in hopes of going awhile without having to repurchase earrings… I usually purchase my lobe piercings from Target but notice that in about 2 months the diamond starts to turn black. I thought I would be saving money by going up in quality and price with these earrings but I was mistaken. I purchased these in June and already one of the earrings has gone black. Im disappointed, I really wish these could have worked for me and lasted longer. I love my cartilage and flat backs from STUDS but the quality of these earrings is definitely lacking especially for the price.

S

Studs

3 months ago

Hi Rachel,
I am so sorry to hear about the quality issues you are experiencing with this set! Please keep an eye out for an email from heystud@studs.com regarding this matter!

I do not recommend this product

Loved but didn't last

I loved these and they were perfect and I was happy with the price. However, two months after wearing them they started turned black and rusting. I cleaned them regularly and I thought they would be better quality as all the reviews were good. Wasn't worth the money and had to throw away.

S

Studs

9 months ago

Hi Jordan! We are so sorry that your earrings have become tarnished!

Many factors play into the lifespan of your jewelry, and plated jewelry does, in fact, fade over time. By chance, do you find yourself touching/adjusting your earrings a lot? This could be a reason why they may be tarnishing quicker than they should be, as the metal can react to the natural oils our skin produces!

When not using your gold jewelry, try also putting them in a plastic bag, removing the excess air by squeezing it, and sealing it. The lack of oxygen in the bag should help keep the gold plated jewelry bright and shiny. You can even use the little baggies our earrings come shipped in for this :) You can increase the lifespan of your jewelry by following our other earring care tips, which can be found in our FAQ section!

I am going to reach out over email as well to provide additional help here!

5 Stars !!

All I can say is wow . Like many others leaving reviews, my ears are extremely sensitive and I can't put just any earring on . After a few hours my ear lobes will usually get itchy gross . These have been a life saver . I have leave them in for days and my ears are fine . Will be purchasing all of my earrings from this site going forward . Thank *** I found studs !! This 3 pack is also the best bang for your buck . If your on the fence for whatever reason, just add to cart now - you won't be disappointed.
Reviews Loaded
Reviews Added