What is Piercing Jewelry?
And what exactly is the difference between piercing jewelry and fashion jewelry?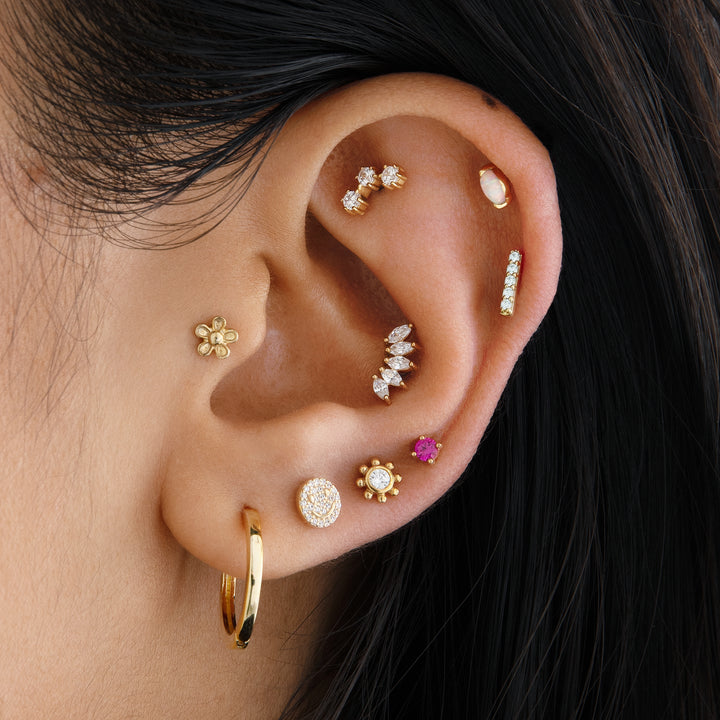 Piercing jewelry is made for piercing.
The materials and construction are designed for optimal piercing safety and healing! Studs only uses piercing jewelry constructed out of solid 14K gold, 18K gold, or implant-grade titanium (ASTM F-136 compliant) with flatback posts and push-pin closures. For daith piercings, we use clickers (seamless rings) and rook piercings, we use curved barbells. These two jewelry options are constructed out of solid 14K gold or implant-grade titanium (ASTM-136 compliant).
For initial piercing, we pierce with 14 gauge or 16 gauge jewelry—using these gauge sizes for a fresh piercing (opposed to smaller gauge jewelry) helps stabilize the post inside a new piercing, decreasing the chances of irritation bumps & drifting.
We offer 100+ piercing jewelry styles ranging from $30 to $300 and it is only available to purchase in our Studs Studios during your piercing appointment! You can check out the assortment here (note: assortment may vary by store location).
Fashion jewelry is made for fully healed holes only.
Studs does NOT pierce with fashion jewelry! Our fashion jewelry comes with butterfly back, flatback, click, or clasp closures, and the base metal is primarily sterling silver and brass, finished with rhodium or gold plating. These styles are only meant for styling and wearing in your fully healed holes. We also offer certain styles in solid 14K gold and 18K gold.
 Ready for a Hole New You? Head here to book your next piercing appointment at Studs (no appointments needed for just shopping). Don't live near a Studs Studio? You can shop our full assortment of fashion styles here!